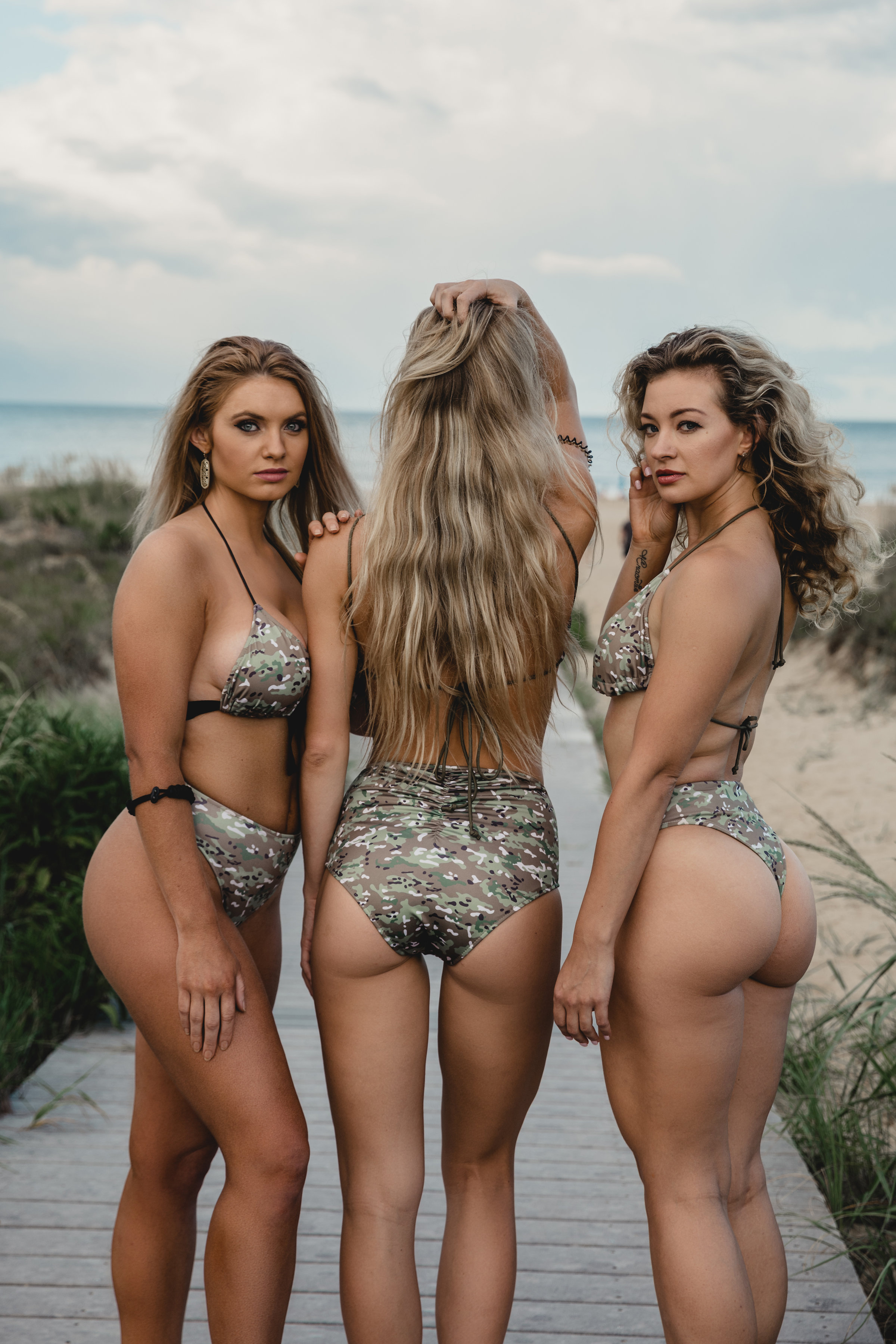 FollowingDory Swimwear is Swimwear with a Purpose.
FollowingDory Swimwear is 100% American made, owned and designed by an Active Duty Military Spouse. We support our troops and proudly donate a percentage of proceeds directly to the All In All The Time Foundation.
The FollowingDory look is classy, on trend and has its own unique sense of global chicness as well as a little bit of a tactical edge. We offer a collection of bikini styles that range in sizes for our beautiful avid bikini babes! Our Military Collection's bikini straps are made with 550 paracord, tie together with an adjustable grenade clasps and some pieces fasten with a front closing military fastek. We keep up with the military themed trends, spice it up and top it off with some sass!
Our Glam Collection shies away from the tactical edginess and into a more colorful and glamorous look, but some pieces still utilize the strong 550 paracord. The Glam Collection is the perfect look for Instagram babes striving to get that on point photo and for anyone else wanting to be a step above the rest at the beach, fancy pool party in Vegas or just on perma vaca mode!
FollowingDory Swimwear is and will always be a perfect fit while supporting an important cause. Our team at FollowingDory Swimwear and London Bridge Trading Inc. scour the nation to bring todays most advanced and innovative fiber technologies to our bikinis, insuring every one of our swimsuits provides unparalleled quality, support, comfort and confidence! With most of our designs available in the euro high cut, finding the ideal style for your shape in an array of patterns and prints has never been easier or more flattering!
FollowingDory Swimwear supports the United States Military in all branches, aspects and communities. Our hearts go out to the fallen soldiers who gave the ultimate sacrifice and to their families, friends, lovers, sisters and brothers.
Meet the Face Behind FollowingDory Swimwear
Dory Bailey Owner, Creator and Designer of FollowingDory Swimwear
I was born to be a mom, to travel and live my life in bikinis as much as physically possible! I have lived years abroad in my young life and have visited over 40 countries so far! I'm on my fourth passport this year! I am of Nordic and Northern Italian/Swiss descent and am a natural blonde! I'm super into Hot Yoga and am a total makeup junkie! I'm full Vegetarian, I workout and lift weights regularly and I absolutely love to laugh! I have an eye for beauty and fashion and I love all children and puppies!
People have told me I live the dream life many times, but not everything is always what it seems.
I have lived on my own since I was 15. Finding temporary jobs and living situations. I found myself becoming a young, single mom at the age of 19 and I worked 2-3 jobs for 10 years to be able to provide a beautiful life for my son and set up a solid foundation for his future. I went without to be able keep him in a private school and provide a nice stable home environment. I worked in bars as a Waitress, Bartender and eventually as a Manager/General Manager at night so I could be there for my son during his days. I never missed a thing! (Besides a lot of sleep, haha!) I put myself though college somehow over the years and worked my way up to managing the fanciest night club Virginia Beach has to offer, Sky Bar, and then realized there was no going up from there! Literally. I had to follow my passion! It was time to risk everything, including my life savings and pursue my dream! I had to listen for my calling. I knew it involved fashion and making women feel beautiful and then one day it hit me like a ton of bricks, completely unexpectedly… and in a way I will never ever forget.
So, let me back up 7 years for a sec. I met my husband at a local bar in Virginia Beach, VA right as I moved here from the west. I avoided his outreaches and continuous pokes on Facebook for over a year before I realized his persistence and the genuine respect he held for me. I gave him a chance on a silly bet he made with me via Facebook Messenger (football game bet) and now I am the wife of an active duty service member going on 5 years strong and sole owner of FollowingDory Swimwear. My husband has always encouraged me to pursue my passions and dreams without ever holding me back. He has been my rock and inspiration throughout this whole process. He has shown me and my son what it's like to be a true family over the years as well and I can never thank him enough for that!
The hubbs, as strong and warrior like as he is, was shot while serving our country two years ago on an Op in the Middle East. He thankfully survived, but his good friend and teammate was not so lucky. I organized a fundraiser and raised over $10,000 for the local Gold Star Family affected by that single tragedy. I used my industry connections, contacted Steel Panthers' manager for ticket donations (since they were coming to town and are a huge hit with the guys on my husbands team) and my friends, community and bands support that night was a giant success! It created a feeling deep inside of me I had never had before. I gave a family I had only met once more money than I had saved over the 10 years struggling being a single mom working three jobs at a time, and it felt AWESOME! It is my calling to continue that feeling, I don't ever want to live without it and I want to continue to pay it forward. I wanted to do something that combines my love for beauty and fashion as well as my desire to provide continued support to all our fallen heroes families, spouses and loved ones who are left behind and having to heal and rebuild their and their children's lives all over again. And this time, without the one who holds their hearts.
This is the foundation I have built FollowingDory Swimwear on. I'm all about paying it forward and keeping karma tanks full. A hefty portion of every single swimsuit sold goes directly to Gold Star Families to help ease the unexpected financial burden loved ones are left with when a service member makes the ultimate sacrifice.
FollowingDory Swimwear supports the United States Military in all branches, aspects and communities. Our hearts go out to the fallen soldiers who gave the ultimate sacrifice and to their families, friends, lovers, sisters and brothers.